Thúy Nga Video 21 - Paris By Night 9
(filmed 1989 - released 1990)
Second filming in front of a live audience!
Thanks to Myson

for the cover.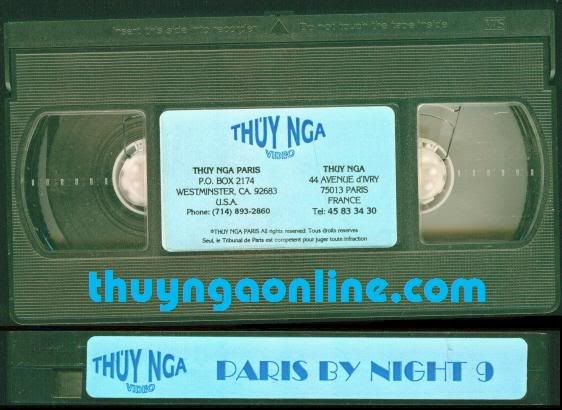 Điều Khiện Chương Trình:
Trần Văn Trạch
Fashion Designer:
Cathy Lê Minh Ánh

The stage was positioned on the left, MC placed infront of the audience. Just imagine how close the singers were to the audience seats and the stage on ground floor, everything was so close.
00.
Xổ Số Kiến Thiết Quốc Gia (Trần Văn Trạch)
- Trần Văn Trạch
01. Mùa Thu Yêu Đương
(Lam Phương)
- Kim Anh
02. Hai Vì Sao Lạc
(Anh Việt Thu)
- Tuấn Vũ
03. Black Is Black
(Lời Việt: Chí Tài)
- Jeannie Mai
04. Nụ Hoa Nhỏ
(Nguyễn Cư)
- Hương Lan
05. Tình Lính
(Y Vân)
- Minh Phúc & Minh Xuân
06. Trình Diễn Áo Dài Thời Trang Của
Họa Sĩ Cathy Lê Minh Ánh
07. Buớm Trắng
(Anh Bằng, Thơ: Nguyễn Bính)
- Họa Mi
08. Cold Hearted
(Lời Việt: Khúc Lan)
- Lynda Trang Đài
09. Biết Đến Bao Giờ
(Lam Phương)
- Băng Châu
10. Cánh Bướm Vườn Xuân
(Nhạc Ngoại Quốc)
- La Hán & The Passion
11. Duyên Kiếp
(Lam Phương)
- Hương Lan & Tuấn Vũ
Trình Diễn Áo Dài Thời Trang Của
Họa Sĩ
Cathy Lê Minh Ánh



Four

seasons Collection and

Two

Brides




http://forums.thuyngaonline.com/tm.aspx?m=856471&mpage=1&key=&#856577
My name is Myson Nguyen. Most of you that are visitng this page probably already know me from TN Forums as mysonnguyen1431. For those who don't know me, I am a major PBN junkie. I began watching at the age of 3, but I fell deeply in love with the program during my middle school years. Since then, I have collected PBN's 15 through now. I dedicated part of my middle school life iniating and maintaining this blog. After several years of vacancy, I decided to give this blog a major facelift. This site is still under construction, so I hope all of you can remain patient and bare with me. Since I am in college now, I'm devoting part of my time to revise this website and share with you some special posts so stay tuned, there's plenty more to come! Thank you for visiting xoxo