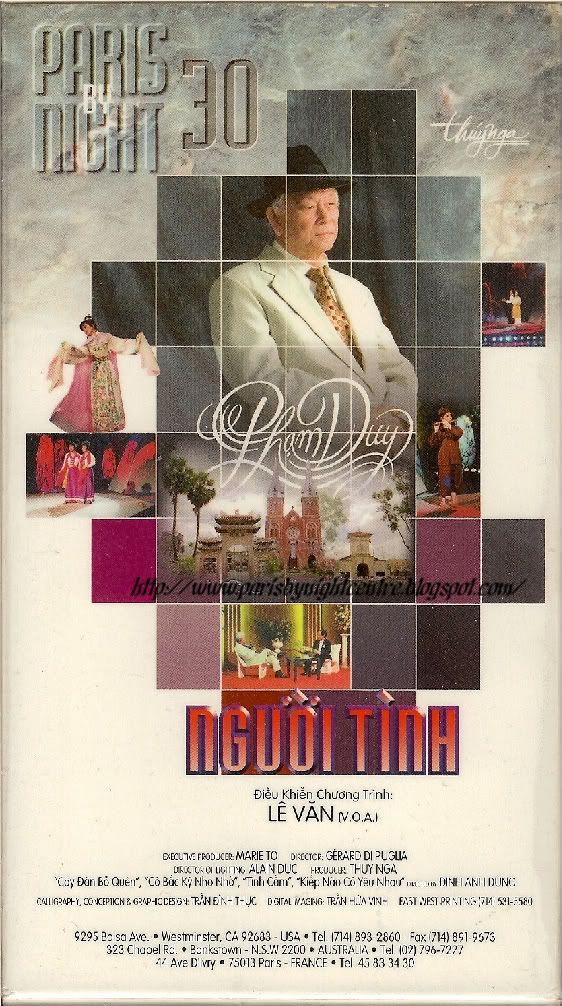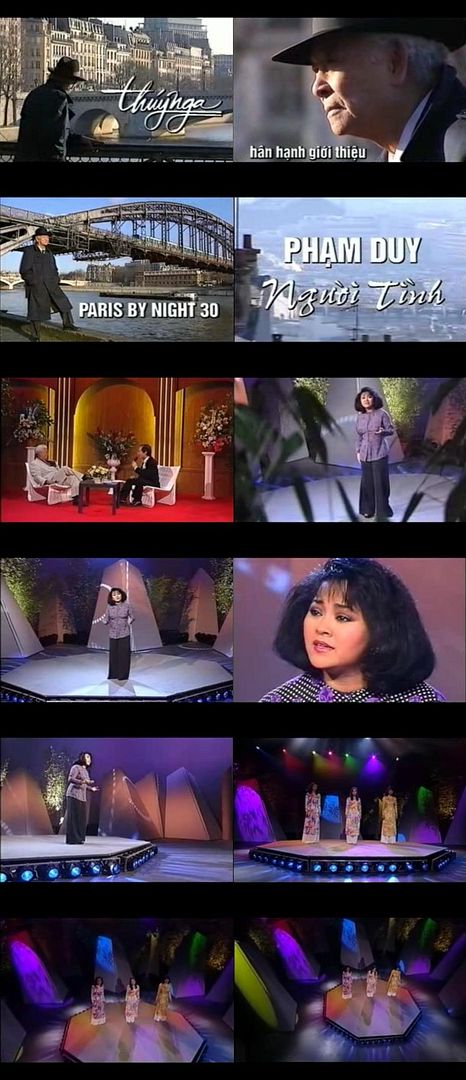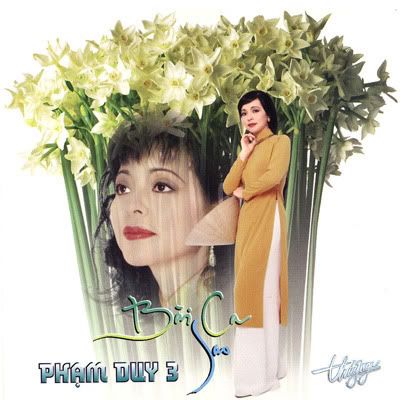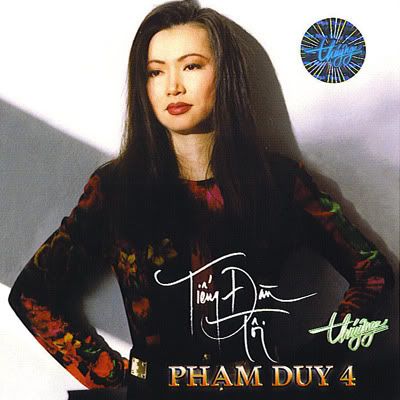 Thúy Nga Video 47 - PBN 30: Phạm Duy 2 - Nguời Tình
1. Chiến Si Vô Danh
-
Elvis Phuong, Duy Quang & Tuấn Ngọc

2. Nhớ Nguời Ra Đi
- Huong Lan

3. Nuong Chiều - Gánh Lúa
- Phuong Hồng Quế & Son Ca

4. Thuyền Viễn Xứ
- Lệ Thu

5. Cây Đan Bỏ Quên
- Thái Châu

6. Đem Xuân
- Thái Hiền

7. Chú Cuội
- Ái Vân

8. Tiếng Đan Tôi
- Phi Khanh

9. Ngày Đó Chúng Mình & Cho Nhau
- Tuấn Ngọc & Thái Thảo

10. Kiếp Nào Có Yêu Nhau
- Khánh Hà

11. Tình Nghèo
- Quang Bình & Trang Thanh Lan

12. Kỷ Vật Cho Em
- Elvis Phuong

13. Xuân Ca
- Thái Hiền, Thái Thảo & Thiên Phuong

14. Tuổi Hồng
- Dalena

15. Cô Bắc Kỳ Nho Nhỏ
- Don Hồ

16. Tình Cầm
- Duy Quang

17. Bài Ca Sao
- Ái Vân & Elvis Phuong

18. Viễn Du & Mẹ Trùng Duong
- Duy Quang, Thái Hiền, Thái Thảo & Thiên Phuong
The stage seems very "different" than the four previous PBN's (26, 27, 28 & 29) b/c this video was delayed when they were trying to add some MTV music videos into the video.
The release date was suppose to be in 1994, but then changed to 1995.
The ad for this video was shown in PBN's 26, 27, 28 & 29 and they finally released it as PBN 30. So technically, this PBN was suppose to be PBN 25 not 30. Creds to Cang for telling me this fascinating fact =)


Thanks a whole lot Huy Nguyen (congtonsac), from Thuy Nga Forums, for sending me the box pics for PBN 30! I REALLY appreciate it!
-Myson Nguyen (Ur welcome =D)
© 1995
http://www.thuynga.fr/details.php?idprod=357
http://www.thuynga.fr/details.php?idprod=356
http://thuyngashop.com/?mdl=product&cat=CD&id=518
http://forums.thuyngaonline.com/tm.aspx?m=839267&mpage=1&key=&#839267

My name is Myson Nguyen. Most of you that are visitng this page probably already know me from TN Forums as mysonnguyen1431. For those who don't know me, I am a major PBN junkie. I began watching at the age of 3, but I fell deeply in love with the program during my middle school years. Since then, I have collected PBN's 15 through now. I dedicated part of my middle school life iniating and maintaining this blog. After several years of vacancy, I decided to give this blog a major facelift. This site is still under construction, so I hope all of you can remain patient and bare with me. Since I am in college now, I'm devoting part of my time to revise this website and share with you some special posts so stay tuned, there's plenty more to come! Thank you for visiting xoxo