ONE OF MY FAV's IN MY TOP TEN PBN's
OVERALL RANKING IN LIST OUT OF TEN VIDEOS
6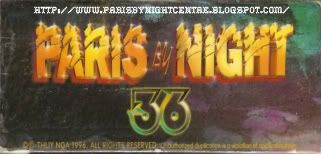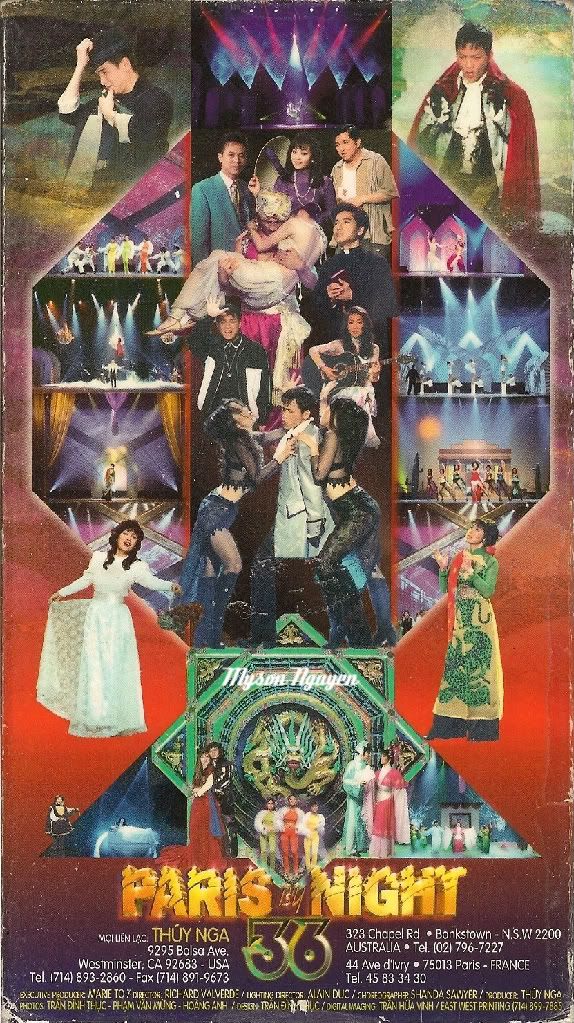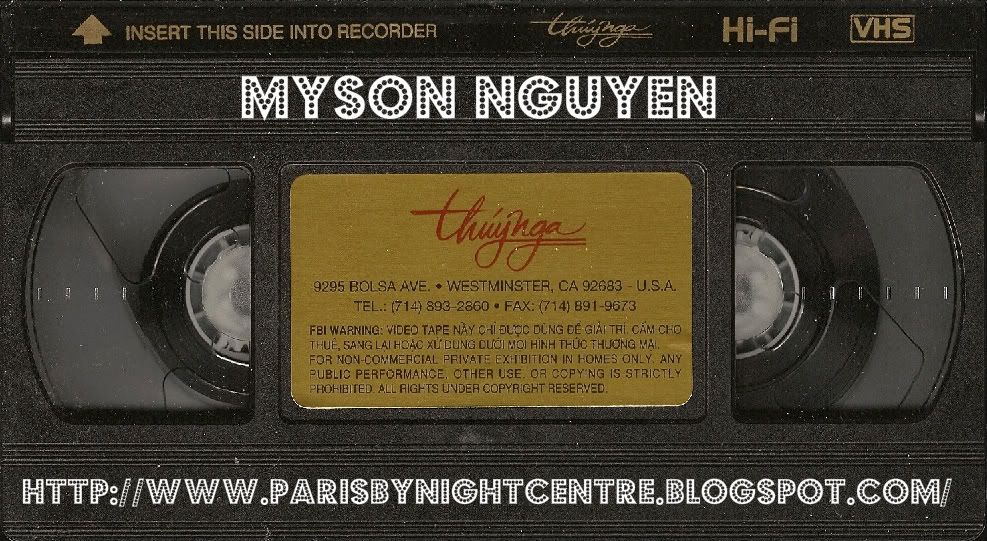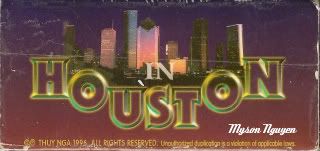 Below is a brief excerpt form John's Myspace Blog
Saturday, March 31, 2007
A Retrospective View of PBN 36
As I'm posting this...this is exactly 11 years since the taping. This time 11 years ago, I was in the Houston Music Hall watching Paris By Night 36.
As Thúy Nga prepares for their upcoming Paris By Night taping on May 5th in Houston, I thought it would be fun if we went back in time to the first time Thúy Nga visited Houston to tape the simply titled PARIS BY NIGHT 36 in HOUSTON.

>>> March 31, 1996 <<<
The official flyer which was distributed around town prior to the taping.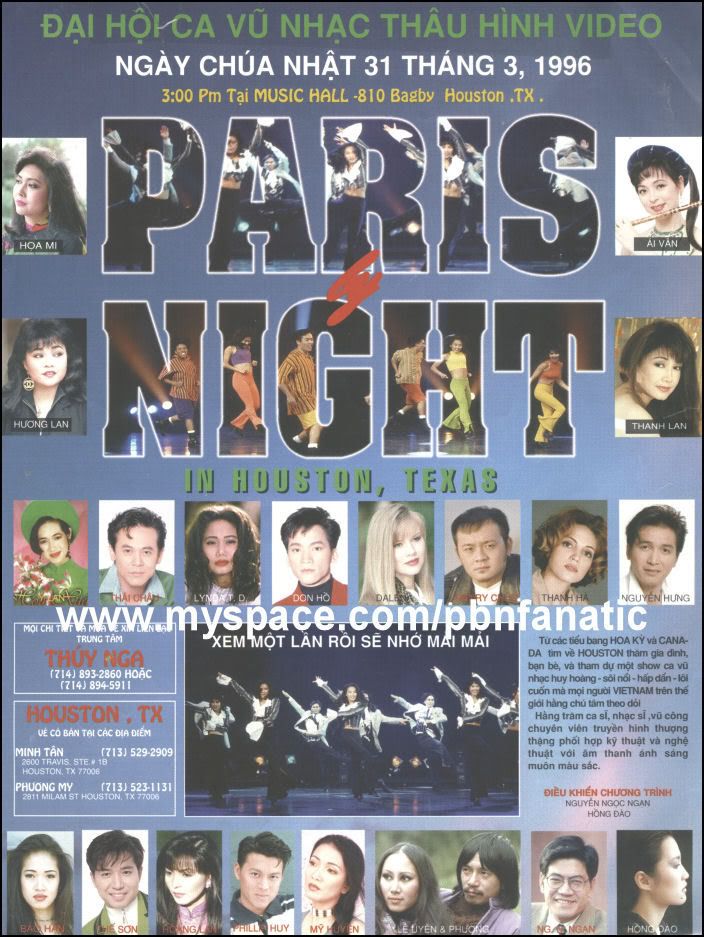 My tickets...not great seats, but this was my very first taping.
I'm never gonna forget it.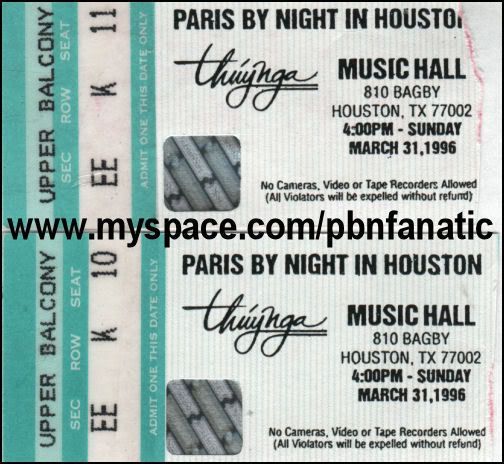 The official program. They passed these out as we were waiting in line to enter the theater.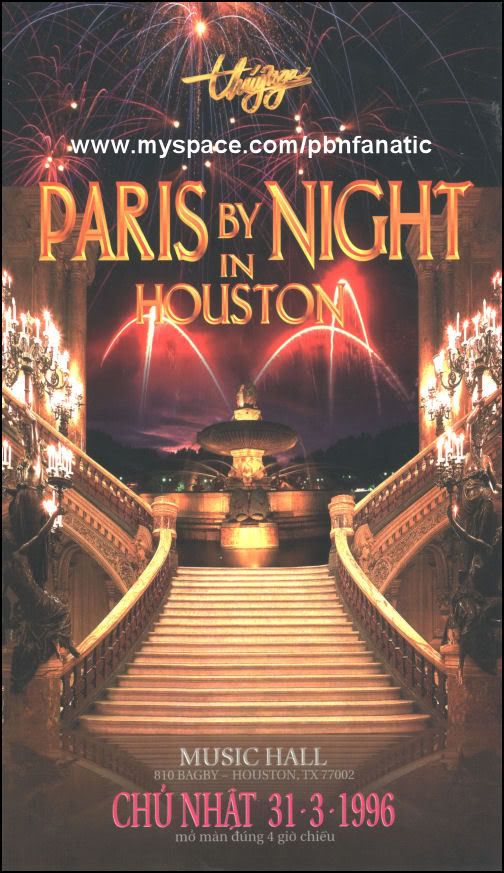 The Video was released on June 27, 1996.
News Article about the program. I don't remember exactly which newspaper this came from, but it's a brief clipping describing the outstanding program.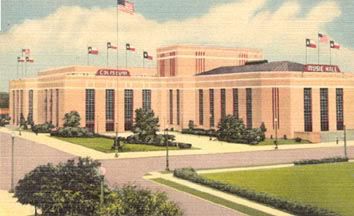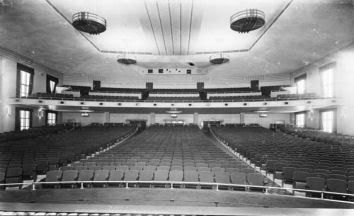 The Music Hall where PBN 36 was taped was built in 1928. It was demolished in 1998, and the new Hobby Center for the Performing Arts where the taping will take place in May was built in 2002.
I hoped you enjoyed this mini retrospective. When PBN returns to Houston on May 5th, it will have been 4052 days since the taping of Paris By Night 36. Over 11 years!! I hate to bring this up in all of my posts, but as you can see Thuy Nga has brought us so many memories over the years. Just looking back at all these pictures brings back a rush of memories for me. Once again I'll say it...Thuy Nga's continued existence solely depends on the audience buying original copies. Without our support and at the rate of how things are now, there won't be any more Thuy Nga memories made. It is up to us!!


Thúy Nga Video 53 - Paris By Night 36: in Houston (1996)
01. Hoang Vắng (Quốc Dung)
- Bảo Hân, Châu Ngọc & Thanh Hà
02. Mái Tóc Dạ Huong (Nguyễn Hiền) (Tho: Đinh Hùng)
- Ý Lan
03. Chết Trong Vòng Tay Em (Lời Việt: Khúc Lan)
- Don Hồ
04. Hoa Muời Giờ (Đai Trang)
- Hoàng Lan
05. Nửa Hồn Thuong Đau (Phạm Đinh Chuong)
- Họa Mi
06. Say (Lam Phuong)
- Nguyễn Hung
07. Duyên Nọ Chợ Trời (Quy Sắc Đức Phú)
- Huong Lan & Chí Tâm
08. Chiếc Lá Mùa Đông (Lời Việt: Khúc Lan)
- Bảo Hân
09. Tôi Yêu Em (Thái Châu)
- Thái Châu
10. Knight In White Satin (Lời Việt: Mỹ Huyền)
- Philip Huy
11. Kẻ Yêu Thầm (Mỹ Huyền)
- Mỹ Huyền
12. Tình Lỡ Trăm Năm
- Ái Vân & Nguyễn Hung
13. Romeo & Juliet
- Henry Chúc, Dalena, Phạm Long & Fu Man Chu
14. Đuờng Đi Trọn Kiếp (Lam Phuong)
- Thế Son
15. Giận Mà Thuong
- Huong Lan
16. One Good Man
- Lynda Trang Ðài
17. Giàn Thiên Lý Đa Xa (Lời Việt: Phạm Duy)
- Thanh Lan
18. Trên Da Tình Yêu (Lê Uyên Phuong)
- Lê Uyên Phuong
19. Cần Thiết (Ngô Thụy Miên) (Tho: Nguyên Sa)
- Thanh Hà
20. Nguời Đẹp Trong Tranh (Phạm Duy)
- Thế Son & Ái Vân
Thanks a whole lot Huy Nguyen (congtonsac), from Thuy Nga Forums, for sending me the box pics for PBN 36! I REALLY appreciate it! And thank you John for the extra pics that I used for this post =)
-Myson Nguyen (Ur Welcome =D)
http://forums.thuyngaonline.com/tm.aspx?m=834410&mpage=1&key=&#834410

My name is Myson Nguyen. Most of you that are visitng this page probably already know me from TN Forums as mysonnguyen1431. For those who don't know me, I am a major PBN junkie. I began watching at the age of 3, but I fell deeply in love with the program during my middle school years. Since then, I have collected PBN's 15 through now. I dedicated part of my middle school life iniating and maintaining this blog. After several years of vacancy, I decided to give this blog a major facelift. This site is still under construction, so I hope all of you can remain patient and bare with me. Since I am in college now, I'm devoting part of my time to revise this website and share with you some special posts so stay tuned, there's plenty more to come! Thank you for visiting xoxo